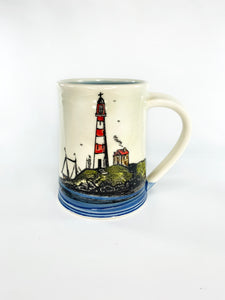 Eastwood Pottery
NS Lighthouse Lottery Mug
Regular price
$38.00
$0.00
Unit price
per
In 1752, the Governor of NS organized a lighthouse lottery to raise money to build a lighthouse for "Cape Sambrough".  
This mug illustrates a depiction of the lottery ticket that was sold to raise funds.  
Finally, on the first day of the first general session of the General Assemblly of NS, October 2, 1758, an act was passed to establish a lighthouse on "Sambro Outer Island" and is currently the oldest operational lighthouse in North America.
A portion from the sale of these mugs will be donated to help preserve the lighthouses of Nova Scotia.
---